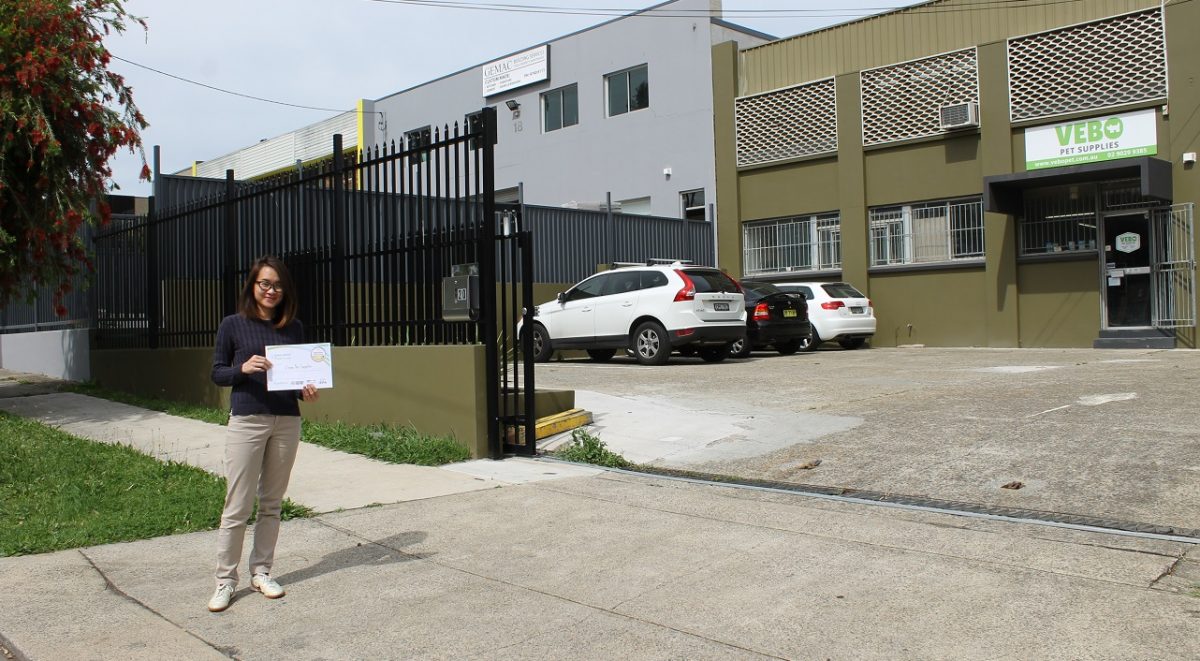 Businesses in the Belmore, Lakemba and Strathfield South industrial areas are taking a leadership role in managing litter on the verge outside their premises.
Educating staff, installing bins and signage, and increasing the regularity of bin emptying are just some of the actions businesses have committed to as part of the Clean Street Clean Creek project.
The project, run by City of Canterbury Bankstown, Strathfield Council and the Cooks River Alliance, is aimed at reducing the amount of litter entering the Cooks River via Coxs Creek in the Belmore, Lakemba and Strathfield South industrial areas. Maintaining a clean verge reduces litter entering street storm drains which lead directly into Coxs Creek and flow into the Cooks River. The project is a NSW EPA Waste Less, Recycle More initiative funded from the waste levy.
Belmore business VEBO Pet Supplies (pictured above) has been identified as a Clean Street Clean Creek project champion for maintaining a clean and well-kept verge. Owner Carman Ng said she notices more litter accumulates in verges that have overgrown grass or appear unkempt.
"Keeping it clean and tidy helps discourage littering and illegal dumping of waste," said Ng.
Nearby outdoor furniture business Hani El Koudssi Import and Export in Lakemba is also a Clean Street Clean Creek project champion. Owner Hani El Koudssi said he takes a lot of pride in ensuring his customers walk into a clean environment.
"I like to keep all of my warehouse clean so people feel happy to come through to come have a look at the goods. Some people have said to us our business is cleaner than their house," said El Koudssi.
In Strathfield South,  is one of several Clean Street Clean Creek project champions  in the area. State manager Michael Livio said it's important for companies to manage the way their business is presented because "the first impression at the front is what makes us".
Cooks River Alliance Deputy Chair, Strathfield Councillor Maryanne Duggan, and Canterbury Bankstown Mayor Khal Asfour said this litter prevention project consolidates both Councils' commitment to improving the public space and environmental impact of industrial areas.
"We have significantly reduced illegal dumping in the Strathfield South industrial area over the last year through monitoring and have already conducted environmental audits of each business. The area also has large litter items removed weekly by the Intensive Correctional Service litter collection program which is supported by the Cooks River Alliance and partner councils including Strathfield and Canterbury Bankstown," said Councillor Duggan.
"This litter prevention project follows the success of our Cleanest Street Lakemba Program, which resulted in a reduction in littering, particularly on nature strips, and illegal dumping in the area," Mayor Asfour said.
"It's part of our continued commitment to educating residents about the benefits of a clean environment, as well as fostering pride in the community," Mayor Asfour added.