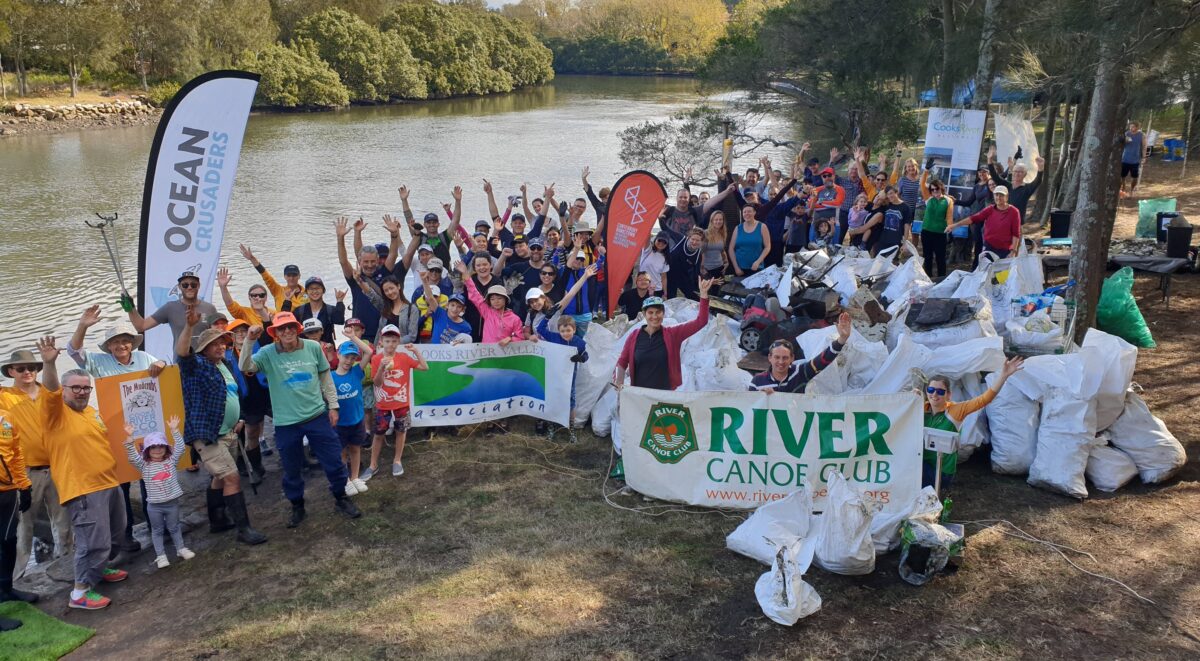 The Cooks River is highly loved with so many different local community groups enjoying and caring for it. Joining a group is a great way to meet people and make a difference!
Botany Bay and Catchment Alliance (BBCA)
The BBCA is an umbrella organisation of 30+ community and environmental groups dedicated to the restoration, protection and sustainable use and enjoyment of Botany Bay and its catchment. | Facebook
Bushcare volunteers undertake planting, weeding and more, maintaining and enhancing the health and biodiversity of the Cooks River and its catchment. No experience necessary! Explore the map to find your nearest site or visit these websites. | Bayside Council Bushcare | City of Canterbury Bankstown | Inner West Council | Strathfield Council | Inner West Environment Group | Mudcrabs | Wolli Creek Preservation Society
Crab walking involves regular litter picking on your nominated street or local park to prevent it from entering the river. Check the page to see if your street is patrolled (or you can share an area with others!) and join the movement. |Facebook | Email
Cooks River Valley Association (CRVA)
The CRVA is made up of caring local residents who are committed to rehabilitating the Cooks River and fostering community spirit within the Cooks River Valley. | Website | Facebook | Email
Learn how to recognise birds and their calls in your area! The GreenWay Birdos meet fortnightly along the GreenWay to conduct surveys of birds. The Dulwich Hill chapter meets at Waratah Mills Light rail outbound platform at 7:30am, fourth Saturday of the month. The Hawthorne Canal Chapter meets at Taverners Hill Light rail station outbound platform at 7:30am, second Wednesday of the month. | Facebook
The Mudcrabs care for the Cooks River and its foreshore by regularly collecting rubbish and restoring bush at nine sites along the Cooks River. The Mudcrabs name was chosen because the presence of mudcrabs in the river would be a sign of the health of the river and because of the visual image of individuals moving about the foreshores with pincer-like rubbish pullers, being very active. Download their calendar of events | Website | Facebook | Email
The Mudlarks conduct monthly surveys of bird activity between Marrickville golf course and Boat Harbour area. Meet at the Lang Rd footbridge in Ewen Park, on the second Tuesday of each month. Download the calendar of events from the Mudcrabs webpage.
Located on the edge of the Cooks River in Tempe, the River Canoe Club and its passionate paddling members coordinate Cooks River clean up and Paddle Against Plastic community event days. | Website
Tempe Birdos volunteers have recorded 110+ bird species since monthly surveying began in September 2011. They meet on the second Saturday of the month, 7:30am at Tempe Lands, Water Basin 1, near South St and Station Street, Tempe. | Facebook 
A bird watching group that explores a different location each month, generally between and around the Cooks and Port Hacking rivers. Learn about bird identification behaviour and develop an appreciation for the bush, shore and wetland habitats. All levels and ages welcome on the third Sunday of each month. | Facebook
The Mullets conduct monthly litter clean-ups in the river on canoes, combining kayaking passion with caring for the river. Instagram | Website | Email
Wolli Creek Preservation Society (WCPS)
WCPS was originally formed in 1983 to oppose the construction of the M5 East motorway through the Wolli Creek Valley. Since then its volunteers have continued to protect and maintain this precious pocket of remaining bushland. The society hosts lots of different activities including bat counting, birdwatching, bushcare and bush walks. | Website | Facebook | YouTube