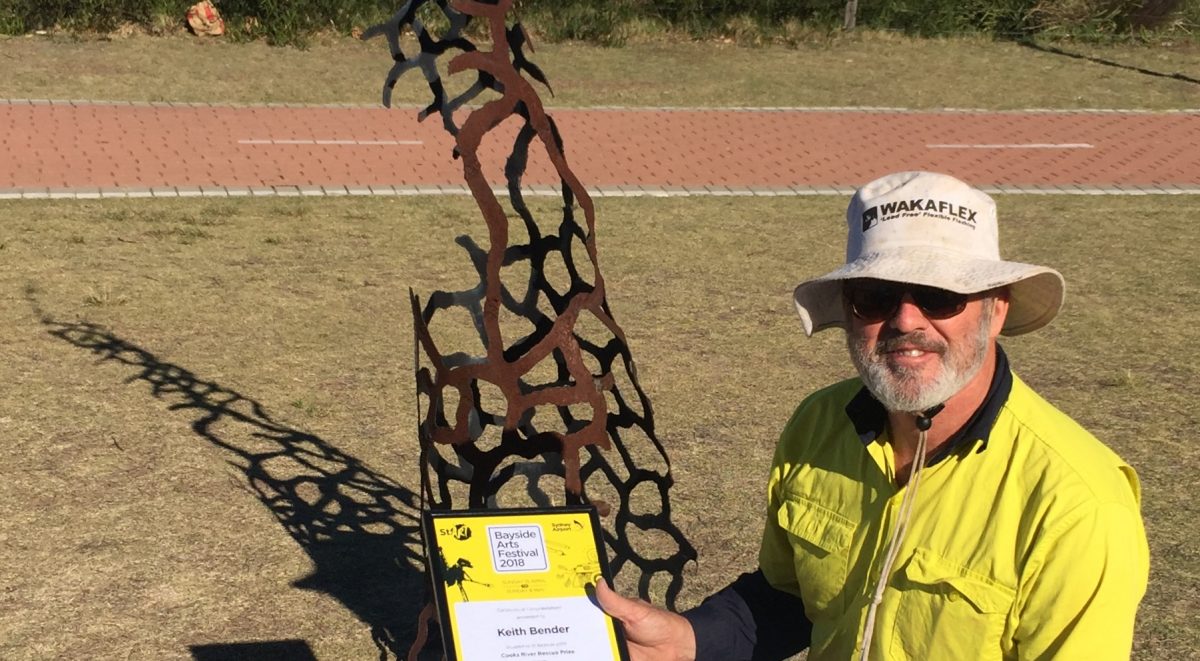 A beautiful work reflecting cracks in mudflats and our gaps in knowledge and understanding of Aboriginal culture has won the 2018 Cooks River Rescue Prize.
It was one of many incredible sculptures dotting Kyeemagh's Cook Park landscape for the past month as part of Sculptures @ Bayside. We spoke to artist Keith Bender about his journey as an artist and the inspiration behind creating his award-winning sculpture, Tracks.
CRA: You have a very interesting background. After more than three and a half decades in the federal public service, you became an undergraduate art student. What triggered the change?
Keith: It wasn't as sudden as that. Thirty-six years went by very quickly, but it was very good to me and allowed me to transition into a second stage life career.
There was a present given to me for my birthday by my wife Kate – a steel structures for everyone course at the Australia National University.
I put a piece of steel in the forge, saw it glow and took to it with some tools. Something was ignited in me which was all about using my hands to make something of value.
CRA: Tell us about the inspiration for your work Tracks.
Keith: In the same way that a bit of steel on the forge lit a fire within, there was a course that I did as part of my undergraduate degree which was called Environment Studio or the Balawan Elective. It took us down to Eden at the start of the Bundian Way, an ancient Aboriginal track that runs all the way to the high country. It's one of thousands of tracks we know nothing about.
My heart and soul and eyes and ears and mind were open to this really deep connection that the first Australians have with the land. I heard stories from local Aboriginals talking about the authorities coming to pick up the kids and hiding in bushes and trees. Like a lot of people my age, I didn't really have much of an education around what really happened.
The metaphor for me was the cracks in the mudflats. I looked at those cracks and thought, they're the gaps in our knowledge, they're the gaps in our understanding.
CRA: Talk us through more of the detail and messages behind Tracks
Keith: I took a pattern of a part of the cracks in the mangroves and turned it into an abstract form of the scar tree where we camped. I then thought about negative spaces in terms of what we do and don't know and how the possibilities for understanding, knowledge and moving forward in a very positive way might look.
The pieces reaching out are talking about the things we don't understand like mosaic burning, and trees talking to one another, and what lies beneath. The aspirational piece at the top is talking about the night sky and that whole relationship that first Australians have with the stars and the universe. It's a very powerful culture.
I chose the material steel to make a point about resilience. With all that could be perceived as negative that's been thrown at the first Australians' culture, the resilience has been there, stood the test and is still standing. In spite of how little is known, how much is yet to be recovered, and how much there is to be achieved, there's an incredible resilience and humility shown by people who have experienced the worst that could possibly happen to their people.
I hope that my work can in some small way help to build stronger relationships and understanding between ourselves and first Australians.
I also hope that:
We formally recognise what happened as colonial settlement took hold and memorialise the loss experienced by first Australians on a national level;
First Australian representation and input in our democratic system of Government occurs in some structural and meaningful way; and
A network of localised treaties abounds throughout our country.
CRA: Your passion for the environment is a theme evident across your various pieces of work. Where does this passion come from?
Keith: It comes from the fact that I'm a grandparent. I have a 13-year old grandson Jack, a 10-year-old granddaughter Matilda and a four-month-old granddaughter Poppy. Obviously it's for them that we have to really be dogged about looking after this fragile planet we live on.
It also comes from the imperative revealed by scientists moving from being concerned, to feeling a bit terrified about where we are and what we need to do.
And it comes from that close association with our need to be in a bush, or down by the sea, or somewhere in nature, which I think is a healthy thing for all of us to do.
Follow Keith Bender's work via his instagram account.
Pattern created from the mudflats
The scar tree at Jigamy Farm which inspired the form of Tracks
Cutting steel for Tracks
First cut before scaling up pattern
Rolling steel for Tracks