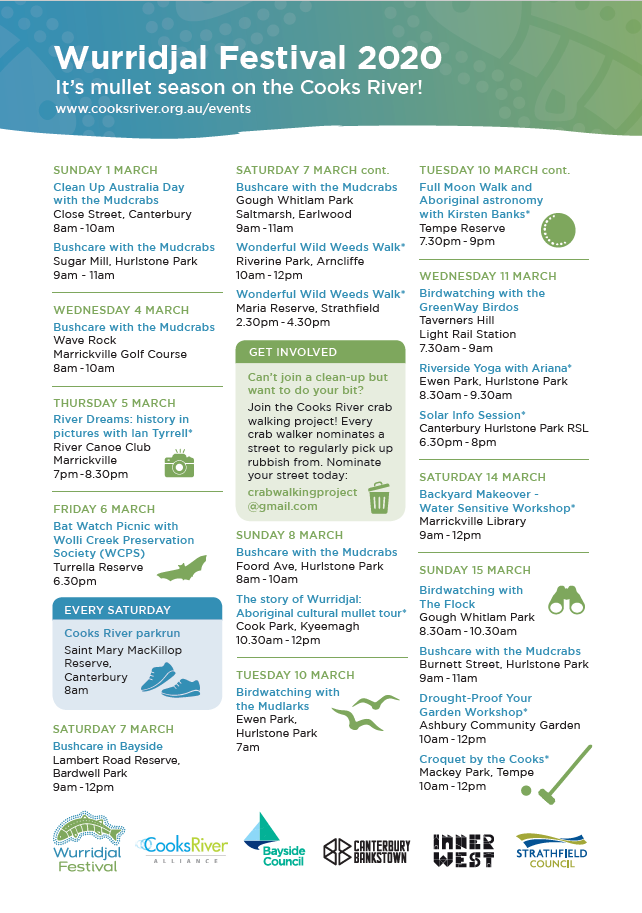 It's mullet season on the Cooks River!
The festival marks the start of a season when thousands of mullet – known as 'wurridjal' in the Dharug or Eora Aboriginal languages spoken in the Sydney region – enter the Cooks River during their pre-spawning migration along the east coast of Australia.
The Wurridjal Festival reminds us that for tens of thousands of years the river was healthy and a source of food for Aboriginal people. With 40+ free events throughout March, the festival highlights the river is highly valued and celebrated and that there is a determination to continue to restore it.
From caring for country activities and cultural learning experiences, to wildlife encounters and riverside recreation, there's something for everyone to enjoy.
Mullet season is one of the happiest times of the year for Aboriginal communities in and around Kamay (Botany Bay). It recalls a time of plenty and community gatherings and is looked upon fondly to this day. Learn about Aboriginal culture and history along the Cooks River here.