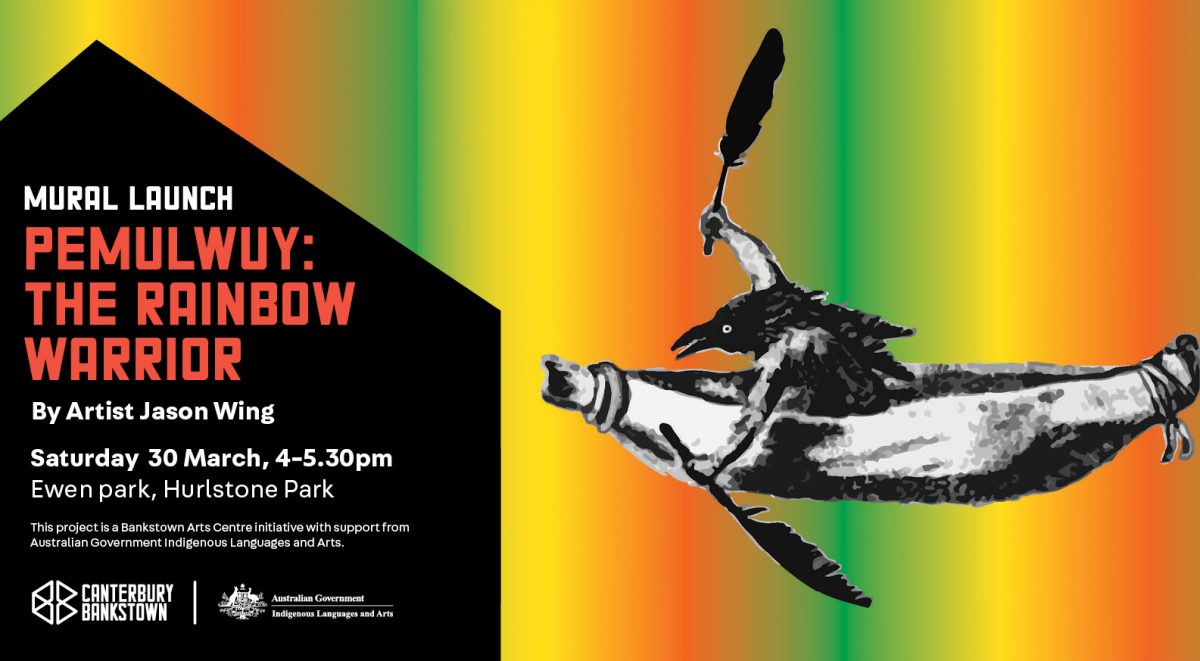 Join us for the community launch of a new mural by local artist Jason Wing at Ewen Park.
Presented as part of the 2019 Wurridjal Festival that celebrates the Cooks River, this new mural depicts the Aboriginal warrior and clever man Pemulwuy.
The launch will be followed by a procession at 5pm to Steel Park where there will be a launch of handmade paper nawi candle boats that will light up the river and celebrate Earth Hour. Also bring your picnic tea, a rug or a chair and a torch. Enjoy some live music. Weather dependent. (Gold coin donation)
RSVP to the launch here: https://www.eventbrite.com.au/e/mural-launch-pemulwuy-the-rainbow-warrior-by-jason-wing-tickets-57762740913
For more information about the Earth Hour event and nawi launch follow the link below:
http://cooksriver.org.au/events/earth-hour-candles-river/
PEMULWUY was born around 1750 in Botany Bay and is noted for his leadership in uniting many clans for resistance from Botany Bay to the Blue Mountains and would have used the Cooks River to navigate the region. There are stories about Pemulwuy escaping incarceration by transforming into a crow and flying through the bars, leaving a trail of crow feathers behind.
JASON WING is a Sydney-based artist who strongly identifies with his Chinese and Aboriginal heritage. Wing began as a street artist and has since expanded his practice to incorporate photomedia, installation and painting. Influenced by his bi-cultural upbringing, Wing explores the ongoing challenges that impact his wider community.
Calling into question our understanding of history and of our current socio-political reality, Wing repurposes everyday objects and imagery, creating works that are both visually confronting and deceptively simple. Wing holds a Bachelor of Fine Arts from Sydney College of the Arts, University of Sydney and a Bachelor of Graphic Design, Sydney Graphics College. He has exhibited nationally and internationally. Significant solo exhibitions include: People of Substance, Kluge-Ruhe Aboriginal Art Collection, Virginia, USA, 2012; Hazelhurst Regional Gallery & Arts Centre, Gymea, 2011; Tree Change, Arc One Gallery, Melbourne, 2012; and The Other Other, Tandanya National Aboriginal Cultural Institute, Adelaide, 2011.
Bankstown Arts Centre would like to acknowledge the Aboriginal groups who are the traditional custodians of the land on which this mural is launched. The Daruk (Darag, Dharug, Dharuk) and Eora people were the original inhabitants of the Bankstown and Canterbury areas, for many thousands of years before European settlement and subsequent Arts Centre proceedings.